Product Detail: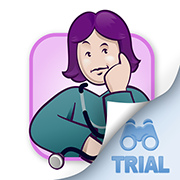 30 Day Evaluation Details:
The primary goal of this online tutorial is to help nurses plan and implement quality patient care using the nursing process as an organizational foundation.
Content Overview:
The tutorial is divided into eight modules. The first seven modules are instructional units. The last is a test bank.
Module 1: Introduction to the Nursing Process
Module 2: Assessment
Module 3: Analysis/Formulation of Nursing Diagnoses
Module 4: Planning
Module 5: Implementation
Module 6: Evaluation
Module 7: The Nursing Process in Setting Priorities
Module 8: Test Bank
The tests in the test bank cover all of the tutorial modules. Students are given their test results at the completion of each test accompanied by correct answers and rationale. Instructors can use these tests as pre- or post-tests. Test scores can be used to monitor student progress and mastery of the subject matter. Test results are recorded in databases on the EDGT server and are available for retrieval and review by both instructors and students.
Learning Objectives:
At the completion of this tutorial, learners should be able to:
Describe the components of the nursing process.
State the advantages and disadvantages of the nursing process.
Compare the nursing process and the medical model to the classic analytical model (the scientific method).
List important aspects of a complete nursing assessment.
List the components of a correctly stated nursing diagnosis.
Given a nursing diagnosis, state a goal (outcome criterion or expected outcome).
Use the nursing process to plan individualized patient care.
State the importance of nurses recording a patient's plan of care in a permanent document
List nursing activities that would be included in the implementation phase of the nursing process.
List nursing activities that would be included in the evaluation phase of the nursing process.
Use the nursing process to prioritize patient care needs when delivering nursing care to multiple patients.
License and Pricing:
You can enjoy this tutorial free for 30 days. A fully licensed purchase of this tutorial includes an unlimited number of users at the site of purchase for a period of three years. Additional campuses may purchase access to the tutorial for half price.
How To Order, Your Choice...
QNO

Order online:

Browse our tutorial products right here on EDGT.com and purchase products using our secure shopping cart. We accept major credit cards, purchase orders, and checks.
d

Fax your order:

Simply print our order form and fax your order to:

630-734-8447 (Chicago Area)
m

Mail your order:

Not as high-tech, but reliable! Simply print our order form and mail your order to:

EDGT Inc.

P.O. Box 9564

Naperville, IL 60567-0654
m

Email your order:

Email the name of the products, your billing address, shipping address, and contact information to:
c

Phone in your order:

Talk to a live person! You can phone in your order:

888-882-9800 (Toll Free)

630-734-8414 (Chicago Area)